The project "Disappearing masterpieces"
Since September 2010, Foundation of maintenance of wooden architectural monuments in co-operation with Russian, Slovak and Czech partners implemented a project entitled "Disappearing Masterpieces". The project aims to improve the conservation of unique cultural monuments of Russian wooden architecture, a lot of which are not sufficiently preserved. The project is supported by the European Commission. Russian partners of the project include Kenozero and Vodlozero national parks, Semenkovo Museum (Vologda), Museum Maly Korely (Archangelsk) and 2 remote northern villages of Oshevenskoje and Kinzha. The partner from the Czech Republic is the Wallachian open-air museum – one of the best open-air museums in Europe and a place where one always likes to return. The partner from Slovak Republic is non-state organisation Machaon International which helps to develop and implement international projects focused on the conservation of nature and traditional culture.
The project focuses on attracting wider public and stakeholders' interest to wooden cultural monuments. The main project event was creation of a photo-exhibition with the same name "Disappearing masterpieces". The exhibition presents a number of unique European and Russian wooden monuments, addresses major problems regarding their preservation and explains how by appropriate restoration some of these monuments were saved from destruction. The ceremonial opening of the exhibition was arranged by the Ministry of Culture of the Czech Republic in Prague, afterwards the exhibition was displayed in Roznov pod Radgostem (August 2011, Czech Republic), Petrozavodsk (October 2011, Karelia Republic in Russia), Vologda (December, 2011), Archangelsk (January 2012) and Moscow (March 2012).
Specialists of 2 open-air museums and 2 national parks had opportunity to learn from experience of European counterparts during a study-tour to the Czech and Slovak Republics. Special attantion during the tour was paid to "living" interpretation of wooden cultural monuments. All depends on people was the leading idea that resonated during the whole study tour. As a result of exhibition and study-tour, the close friendly co-operation and exchange of experience between the Slovak, Czech and Russian partners were reinforced. The Slovak and Czech colleagues expressed their sincere interest to further co-operate with Russian partners in the revival of folk traditions, preservation of traditional handicrafts, restoration of historical objects and in cultural exchange.
Furthermore, a special workshop for restorers and carpenters was organized in the Kenozero National Park in July 2011 as a practical tool to facilitate training and experience exchange in various restoration techniques of wooden monuments. International team of masters from Russia, the Czech and Slovak Republics also helped local carpenters to create two more architectural objects in the historical park "Kenozero spillkins" – the unique architectural and landscape exposition containing miniaturized models of historical monuments of Kenozero region. Read more...
In August 2011 an international conference was organized in the Kenozero National Park devoted to international experience exchange in in-situ preservation of traditional wooden architecture. Read more...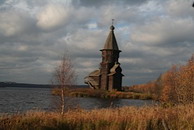 The methodological materials on historic carpenters' technologies for restoration and their dissemination were developed in the framework of the project and distributed to universities, museums and vocational schools. Read more...
Alongside many outstanding outcomes of the project, of utmost importance are also sincere human relations and friendships developed during the project and continuation of fruitful co-operation among involved organizations.